1
« on: October 26, 2015, 12:55:09 AM »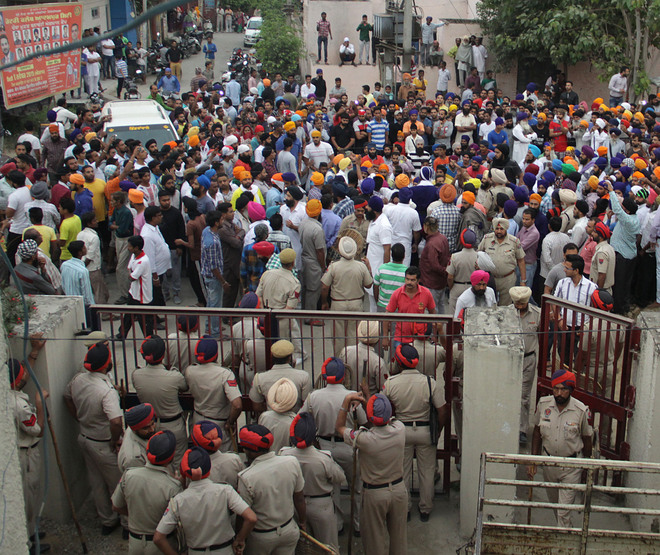 Tension gripped the region after a fresh case of sacrilege came to the fore at Ghurial village near Adampur today. Two "birs" of Guru Granth Sahib were found desecrated at the village's Harsar gurdwara.
Residents held a Sikh priest and his nephew responsible for the act. They nabbed and assaulted them while they were trying to flee. The duo was rescued by the police and later arrested.
They have been identified as Avtar Singh Tari (50) and his nephew Ajit Singh of Ramnagar village, Chomo.
Agitated over the sacrilege, hundreds of Sikh protesters brandishing swords laid siege to the Jalandhar-Hoshiarpur highway.
An SGPC member from Jalandhar, Paramjit Singh Raipur, who tried to pacify the protesters, was roughed up the protesters in the police presence. Senior police officers struggled hard to rescue the SGPC member from the angry protesters. His turban fell off in the melee.
The incident came to fore in the afternoon. Villagers had taken a "bir" to Ghurial village and when they brought the holy book back this afternoon, Tari, who was standing outside the gurdwara, told them that the premises was locked. When villagers brought committee members along, they found the gurdwara premises open and found 14 torn pages of Guru Granth Sahib.
The villagers then nabbed the granthi and his nephew and thrashed them.
At 3.30 pm, hundreds of Sikh activists sat on a dharna outside the Adampur police station where a heavy police force was deployed. To pacify the protesters, IG Jalandhar Zone Ishwar Chandar, DIG Arun Pal, Jalandhar SSP Harmohan Singh, Kapurthala SSP Rajinder Singh, Jalandhar Deputy Commissioner KK Yadav reached the police station.
Protesters also thrashed Adampur DSP Nirlep Singh. "When the DSP told the protesters that he will beat them up if they created any trouble, the latter assaulted him," an activist said.
Protesters said Tari had received a phone call from some woman whom he told that the task had been completed. The protesters demanded that the police should also expose all those who hatched the conspiracy.
"We will not lift the dharna till the police expose the main accused," a protester said.
The SSP said Tari and Ajit had confessed to the crime. Their motive and involvement of others was yet to be confirmed. A case under Section 295 A, 120B and 34 of the IPC had been registered, he said.